Troy Baker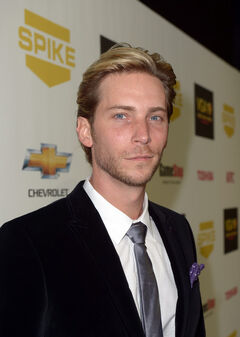 Troy Baker
Troy Baker (born April 1, 1976) is an American actor and voice actor who works with anime films, television series, and video games. In The Last of Us, Troy Baker provides the English voice and motion capture for Joel.
While voicing and motion capturing for Joel, Baker also voiced Booker DeWitt from BioShock Infinite and Nightwing/Sinestro in Injustice: Gods Among Us. He was also the voice of the Joker in various DC Comics video games and Batman: Assault on Arkham, Delsin Rowe in InFamous: Second Son, Pain in Naruto: Shippūden, Rhys from Telltale's Tales from the Borderlands, the second Greed in Fullmetal Alchemist: Brotherhood, Snow Villiers in the Final Fantasy XIII trilogy, Kanji Tatsumi in Persona 4 Golden, and Hawkeye in various Marvel cartoons and video games. He once again worked with Naughty Dog on the final instalment of the Uncharted series, Uncharted 4: A Thief's End, as Nathan Drake's older brother, Sam.
For the release of The Last of Us Remastered, Baker took part in a commentary of each of the games cinematic scenes with Ashley Johnson and Neil Druckmann. Baker made several remarks of the game, including that he "squealed" when he saw W. Earl Brown auditioned for the role of Bill, enjoyed the scenes where his character could just sleep the most, felt sorry for actor Brandon Scott due to the stunt crew giving him the most physically exhausting audition, and that his stunt double (Reuben Langdon) could "punch way better than [Baker] could". He also commented how he persuaded Druckmann to change the direction of Joel's character; Druckmann initially had Joel not care for anyone but himself before meeting Ellie, not even his partner Tess, but Baker brought a new angle to the character where he does care for others deep down, he just doesn't show it. [1]
While watching the winter scenes, the trio remarked how Baker never got the chance to act with Nolan North, whom Baker was a fan of. Baker corrected them, stating he did get to act with North in the Cannibals torture scene, North having stood in for the man Joel would interrogate; North's lines were dubbed over after such. Concerning North, Baker said he "became truly awed by him" when he got to view a brief segment of North acting as his character, David, admiring how "he crafted the character". Baker even mentioned that the idea to have Joel still keep his watch (albeit broken) after the 20 year time skip was only added after they shot most of the scenes, dialogue coming later when they dubbed over the scenes.
With the reveal of a sequel to The Last of Us, entitled The Last of Us Part II, in December 2016, Baker is set to reprise his role as Joel, reportedly taking "a backseat" in the game. [2] He later admitted at the PSX Q&A panel he was "thrilled" to be involved in the game again due to bring able to work with Naughty Dog again and how The Last of Us changed his life. He also remarked that he almost didn't audition for the role of Joel years earlier out of fear he wasn't the right person for the role.[3]
Neil Druckmann had a mind to reject Troy Baker's resume, simply based on his cover picture.
Baker's first audition, alongside Johnson, was the car scene when Joel and Ellie are driving to Pittsburgh.
References
Edit
External links
Edit
Ad blocker interference detected!
Wikia is a free-to-use site that makes money from advertising. We have a modified experience for viewers using ad blockers

Wikia is not accessible if you've made further modifications. Remove the custom ad blocker rule(s) and the page will load as expected.