Welcome to The Last of Us Wiki, a community-maintained encyclopedia about Naughty Dog's 2013 critically-acclaimed The Last of Us and all of its related media. We currently maintain a total of 587 articles and 1,864 images since December 4th 2011.
WARNING: This wiki contains unmarked spoilers for The Last of Us and its related media. Read at your own risk!
We have many forums and blogs where you can discuss almost anything.
Please read our policies and the manual of style for editing and behavioral standards
Feel free to login and help contribute to our wiki by creating new pages, uploading images, or editing existing articles.

About The Last of Us
---

The Last of Us
is a third-person survival horror action-adventure video game developed by
Naughty Dog
and published by Sony Computer Entertainment. It was released on June 14, 2013 and August 1, 2014, exclusively on the PlayStation 3 and PlayStation 4 consoles, respectively. Set in the post-apocalyptic United States, the story tells of survivors
Joel
and
Ellie
as they work together to survive their westward journey across what remains of the country to find a possible cure for the modern fungal plague that has nearly decimated the entire human race.
Featured Article
---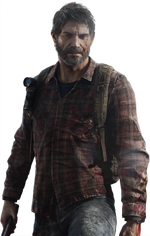 Joel
is the primary playable
character
and the protagonist of
The Last of Us
. After losing his daughter
Sarah
in the outbreak Joel becomes a ruthless and cynical smuggler eventually tasked with protecting
Ellie
, a young girl who is the key to mankind's survival. He is voiced and mo-capped by
Troy Baker
.
Read more...
I don't think she does, but I seem to be in the minority.

We see her lose the blade when she battles David.  After Joel finds her, we see them leave right away, without scavenging the place.  Are we to assume they got outta there, found no one else in the area so then went b…

Read more >
---
Poll
---
Who is your favourite survivor so far?
Did You Know...
---
...that during the chapter "Pittsburgh", the bar found at the Pittsburgh bridge bears a striking resemblance to the pub in the opening of Uncharted 3: Drake's Deception. The name "O'Sullivan's" is also a reference to Nathan Drake's companion, Victor Sullivan.
...that during the chapter "Lakeside Resort", inside a building after escaping David into the blizzard, the player can find a PlayStation 3 console on the shelves?
...that the name of Raja's Arcade is a reference to two characters in the Uncharted series, Rika Raja and Eddy Raja?
...that Naughty Dog was originally planning to make another Jak and Daxter game before creating The Last of Us?