POLL
---
Are you excited for The Last of Us Part II?
DID YOU KNOW...
---
...that a real-life website for the Swirls Frozen Yogurt brand in the game can be found at http://yummyswirls.com/?
...that Joel's name was originally going to be Ethan, but the developers changed it due to sounding similar to the protagonist of the Uncharted series, Nathan?
...that the name of Raja's Arcade is a reference to two characters in the Uncharted series, Rika Raja and Eddy Raja?
...that Tess was originally going to be the main antagonist of The Last of Us who would chase Joel and Ellie for vengeance across the United States?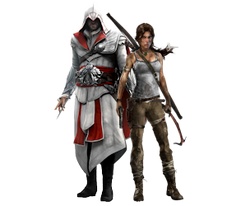 Action-Adventure Games
Go to these sites for info or for help with your own wiki!
ARK: Survival Evolved • Assassin's Creed • Bayonetta • The Binding of Isaac • Castlevania • Crackdown • Darksiders • Days Gone • Detroit: Become Human • Devil May Cry • Dragon's Crown • Fran Bow • God Eater • Grand Theft Auto • Gravity Rush • HITMAN • Horizon Zero Dawn • InFAMOUS • Just Cause • King's Quest • L.A. Noire • The Last of Us • Legacy of Kain • Legend of Zelda • LEGO Dimensions • LEGO Games • LEGO Marvel and DC • Lightseekers • The Longest Journey • Mafia • Metal Gear • Monkey Island • Monster Hunter • Ninja Gaiden • No More Heroes • Ōkami • Prince of Persia • Red Dead • Senran Kagura • Sleeping Dogs • Splinter Cell • Subnautica • System Shock • Tomb Raider • Uncharted • Watch Dogs • Yakuza
Want your community included? See how!
See all of our Action-Adventure gaming wikis!