Riley Abel
Talk

0
378pages on
this wiki
Riley


Gender
Female
Race
Human
Age
15
Status
Deceased
Riley Abel[2] is a character who appears in The Last of Us: American Dreams. She was a fifteen-year-old survivor that lived in Boston. She dislikes the military and often speaks fondly of the Fireflies, frequently defending their supposedly radical actions.
In the upcoming DLC Left Behind, she is voiced and mo-capped by Yaani King.[3]
Biography
Edit
Early life
Edit
Riley was born at some point in 2017. When she was younger, her father was infected with CBI and killed her mother, tearing her to shreds. Riley was forced to kill him in order to save her own life.[4] Some time later, she is put into military school with other children living in the Boston quarantine zone for protection. Though Riley adjusted to the lifestyle of the military school and made friends, she was opposed to the totalitarian rule without government and came to support the Fireflies. Near the end of her fifteenth year, Riley was faced with the option of joining the military or being released into the general population to fend for herself.[5][6] Riley, however, was set on finding a way out of her predicament, unwilling to follow military rule.[6][7][8]
Meeting Ellie
Edit
During Ellie's earliest tenure in the quarantine zone, Riley prevents further harm from coming to the newcomer when she stops a group of bullies from beating her up. Grabbing the offending boy by the wrist she tosses him to the ground and threatens to 'stomp his balls'; the threat is enough to send him and his gang running. Amused by the turn of events, Riley inquires what they wanted with Ellie and the young girl responds with the suggestion that they wanted to steal something of hers. Riley, eyeing her Sony Walkman with curiosity, advises Ellie to watch her back and make friends quickly. Her advice is immediately dismissed by Ellie, offended by the idea that she needed help at all.
Riley notes that Ellie has "serious trust issues" and spots the zone's authority figure immediately afterward. Before she leaves, she tells Ellie to run and bumps past her as she takes off. Ellie doesn't realize until later that Riley pickpocketed and stole her Walkman during her escape.
In the mess hall Riley and her friends are discussing the actions of the Fireflies that led to the decimation of a jeep and the death of an individual being scanned for infection. Riley believes that they had to have been cornered or pushed into such drastic measures. One of her friends warns her to watch what she says out in the open about the Fireflies; Riley suggests that her friend not believe everything said to him as the situation was bound to be more complicated than described.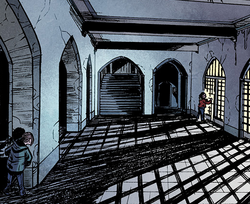 Ellie confronts Riley in the mess hall and demands that she give her Walkman back. Riley denies knowing what she is talking about. Ellie continues to press the issue until Riley relinquishes the Walkman and insults her taste in music.
Later that night, Riley creeps through the school with the intention of leaving the quarantine zone. Ellie manages to sneak up and surprises Riley as she's on cusp of leaving the building. Embarrassed, Riley orders Ellie go back to her room. Ellie refuses, demanding Riley show her how to get out of the quarantine zone. Riley hesitates before she finally concedes and allows Ellie to follow her. She acknowledges Ellie by using her name, tells the girl not to make her regret her decision. The two manage to get across the yard undetected by the patrolling guards and begin to climb over the fence. Ellie inquires how Riley knows her name, Riley responds with a vague answer and a smile before she finally introduces herself.
Leaving the Quarantine Zone
Edit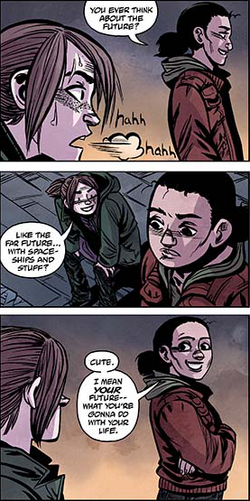 Outside of the school, Riley leads Ellie across the city's rooftops, undetected by the soldiers patrolling the streets below. She stops on the ledge of a building just below her and asks Ellie if she ever thinks about the future. Ellie takes the question lightly, thinking it rhetorical. Riley elaborates on her question more seriously and asks Ellie again what she wants to do with her life.
Ellie assumes there isn't much of a point to thinking about the future, considering their circumstances, but Riley asserts her mindset is exactly how the authorities within the quarantine zone want people to keep thinking. Riley tells Ellie she won't spend her life being told what to do as a soldier; she has three months before her sixteenth birthday and she intends finding out the answer herself. Ellie, however, remains baffled and continues to ask Riley what more could their lives be.
Riley ignores her question, instead asking if she's ever ridden a horse. When Ellie answers in the negative, Riley leads her down into an abandoned mall. They wander through the structure until Ellie spots an arcade across from them. Riley follows her inside and watches her pretend to play "Triple Phoenix"; Riley dismisses the game as something for children and substitutes her favorite game, "The Turning", a brutal fighting game. Riley becomes despondent when Ellie cites the fortune of the children that came before them and decides to leave, believing they are wasting time inside the arcade.
They arrive at a camp where Riley's friend, Winston lives. The man is upset that Riley has brought yet another one of her friends to visit him, but Riley reassures him that Ellie's on the level. When he asks for compensation Riley pulls from her jacket a bottle of whiskey she stole from the school. In exchange for the alcohol, Riley asks Winston to teach Ellie how to ride a horse.
Riley takes Ellie out to the stables and gives her a few pointers on how to behave around horses. As she prepares the horse for the ride, Ellie asks if her she's acting out on purpose to get kicked out of the school. Riley tells Ellie she doesn't want to be stuck in general population, where she would be treated worse and given less in rations. She wants to be free of the whole system. When Winston finally takes Ellie for her ride, Riley searches his tent for his walkie-talkie and discovers it sometime during their absence. She feigns innocence when they return, sitting on the ground and reading a magazine.
As Winston prepares to return the horse to the stables, he tells Riley to go home and avoid trouble. Riley laughs at his advice, saying that she'd have to be caught in order to be in trouble. Their conversation is cut short by an explosion outside the mall. Winston mounts his horse and orders Riley return to the school, before heading off to find his unit.
Riley ignores him and listens to the radio chatter on his walkie-talkie. Ellie, realizing that she was used to distract Winston, becomes furious with Riley. However, a report of a Firefly sighting interrupts her outburst. Riley, excited that the attack came sooner than expected, plots to leave the quarantine zone for good. She intends on finding and meeting the Fireflies. When Ellie objects to the idea, Riley chooses to leave her behind.
Rendezvous with the Fireflies
Edit
Using Winton's walkie-talkie, Riley follows the progress of the military's fight with the Fireflies through the abandoned streets. She tells Ellie there's no chance of convincing her that heading straight for the battle is a bad idea. Using the rooftops, Riley and Ellie follow the smoke and sounds of gunfire from above until they reach McMillan and Jordan. Realizing the Fireflies are trapped, Riley pulls two smoke grenades from her jacket and offers one to Ellie. Hesitant, Ellie tells Riley what they'll do may harm someone.
Riley assures her none of the soldiers will be hurt, she intends on giving the Fireflies a chance to escape. She tells Ellie that this is their chance to change their fate and fight the control of the military. She asks if Ellie is willing to let them control her or if she's strong enough to fight for "something else". Frustrated, Ellie unpins the grenade and tosses down into the street. The subsequent detonation of the grenade and the Fireflies escape excites Riley, who boasts loudly from the rooftop.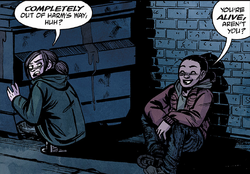 Her shout alerts the military to their presence and forces them to run when they open fire. Climbing down from the rooftops, Riley and Ellie take refuge in an alley behind a dumpster. When Ellie mocks Riley's assurance of their safety, Riley is quick to remind her that she's still alive. Taking a breather, Ellie asks her where she found the grenades. Riley reveals she stole them from Winston and her theft suggests that their "amazing friendship" was over. Ellie notices someone standing in the door way of a building with yellow "quarantine" tape hanging from its walls.
Riley realizes the girl approaching them is infected and urges Ellie to run. However, before either can escape, the infected woman attacks them. She manages to pin Riley down, Riley grabs a nearby rock and smashes her in the face just as she bites her on the arm. Ellie attacks the infected woman from behind with a stick; the woman charges her and knocks her down. Ellie manages to hold her off long enough for Riley to stab her through the neck with the broken part of Ellie's stick.
Panicked, Riley begins to realize she's been bitten and tries to dissuade Ellie from checking her arm. Ellie grabs her arm and pulls the sleeve away to reveal no bite marks or punctures. Riley brushes her fear off in a show of bravado, but admits she was scared when Ellie hugs her. Their moment of respite ends when two more infected appear and chase them. Riley and Ellie run until they reach a dead end. They're saved seconds before the infected can reach them when a Firefly guns them down. Relieved, Riley thanks the Fireflies and starts to introduce herself when one of them attacks her with a stun rod. She hits the ground, unconscious, and is taken on the order of Marlene who recognizes Ellie.
Return to the Zone
Edit
Riley regained consciousness as Ellie negotiated for her release with Marlene. Ellie asked if she was alright as one of Marlene's men untie her, Riley answered in the affirmative. When Marlene gave Ellie a red envelope, she indirectly tells them to return to the quarantine zone.
Riley argues against the order, she tells Marlene that she wants to join the Fireflies. Marlene refused to listen to her despite Riley affirming that she wanted to help her organization restore bureaucracy and save the city. Their argument is cut short when a group of smugglers discover their hiding place and hold them at gunpoint. The smugglers open fire on the Fireflies first, killing the man closest to Riley. Fearing for Riley's life, Ellie dives in front of her as Marlene shoots one of the smugglers.
Riley and Ellie duck into a corner for safety while Marlene runs for cover. Seeing that she is pinned down by gunfire, Riley jumps out from cover and attempts to grab a nearby gun lying on the ground. One of the smugglers grab her by her hood, stopping her. Ellie hits the man with a brick, distracting him long enough for Riley to grab the gun and shoot him in the shoulder. The man is incapacitated long enough for Marlene to kill him. Despite the number of dead surrounding them, Riley states that her efforts make the second time she helped Marlene and the Fireflies.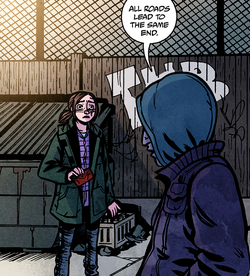 Angry, Marlene grabbed Riley by the jacket and slammed her to the ground. She questions whether or not Riley thinks this is all game. Though Riley attempts to protest, Marlene tells her that dressing up like her and memorizing the charter of the Fireflies doesn't mean she understands what becoming a Firefly means. Upset, Riley admits to killing her father when he became infected. However, her admission does not sway Marlene from her decision and Riley reaffirms that she believes in the cause of the Fireflies. Marlene showed her one of the bodies of her men and brought into question his beliefs.
Threatening Riley with a gun, she suggests maiming Riley, as many of her men have ended up crippled fighting for what they believed in. When she asks if Riley still wants to become a Firefly, Riley's determination remains firm. Ellie bites the man holding her back when hears Marlene cock her gun. She threatens to shoot Marlene if she didn't move away from Riley, firing off one round when the woman tries to dissuade her. Marlene convinces Ellie that she knew her mother, Anna, and promised to look after her. Ellie asks Riley what she should do. Riley tells her to put the gun down, Marlene has been nothing except honest with them. Afterward, Marlene gives Ellie her mother's knife and tells them to return to the school.
Disillusioned, Riley follows Ellie out of the sewer and back onto the surface. When Ellie noticed her friend was troubled, Riley declared that there was no way out for them. Refusing to believe that, Ellie dismisses her mother's letter, the Fireflies and everyone in the city. She suggests that they run away and leave the zone in search of another place for them both. Riley begins to cry and asked her to stop talking, knowing that leaving the zone would likely end in their deaths. They return to the school and go their separate ways, Riley telling Ellie that she'll see her tomorrow.
Events of The Last of UsEdit
Three weeks prior to the events to meeting Joel, Riley and Ellie ventured outside the quarantine zone. During that time they were both attacked and bitten by a Runner outside the zone. Given the circumstances, both assumed that they would die and chose to wait for the end together.
However, Riley was the only one who succumbed to the fungal infection and died. As a result of her survival, Ellie learned that she was immune to the infection and was later taken into Marlene's care. Riley's death is one of many losses that would attribute to Ellie's survivor's guilt and the sense of responsibility to provide a cure with her immunity.
Personality and Traits
Edit
Riley is quick to jump to the defense of otherwise weaker or preyed upon individuals with little thought of reward to herself. However, much like the world she lives in, she will take or steal from others without consideration to their situation and deny her actions if caught. She appears to be aware of the morally gray or void nature of her environment and is quick to jump to the defense of the Fireflies if she believes they are being accused without considering all the angles of the situation.
Riley's knowledge of the environment helps Ellie navigate her new surroundings.[5] The two become friends and together they embark on an adventure across the outskirts of the quarantine zone. Riley's friendship with Ellie is also said to have an effect on the latter's journey within The Last of Us, further emphasizing the impact they had on each other as both friends and victims of a world in which they had no say in living in.[6]
RIley vaguely likes media before the Infected struck. Though she calls the old music on Ellie's Walkman "shit", she enjoys the game "The Turning", which ironically is a zombie video game. Not much is known, but the player plays Angel Knives, a girl who would punch a hole in her foe's stomach before kicking their head off.
She was born four years after the fungal pandemic spread. She is two years older than Ellie, suggesting she was presumably born sometime in 2017.[11]
She is one of the only two characters mentioned or seen in the game whose last name is revealed, the other one being Jimmy Cooper. However, in the Japanese manual, Ellie and Joel's last names are said as well.
In The Last of Us, when the players gains control of Ellie, the player can search her backpack and find a Firefly pendant with Riley's name on it. Interestingly, it is considered as an artifact rather than a Firefly pendant collectible.

The pendant shows that she is Firefly #000129. There is dried blood on the edges and bottom,[12]
American Dreams
Edit
Left Behind
Edit
References
Edit