Pharmacist's Note is an artifact found in The Last of Usdownloadable content, Left Behind
The note is a photostrip of the pharmacist and his wife/girlfriend, Laura. It shows a collection of four images taken in a photo booth from "Sharesnap." On the back, it is a note from Laura that says,
Think about me while I'm off. I'll be missing you, but not too much. --Laura
It possibly indicates that she left during sometime of the outbreak.
It can be found in the back of the American Princess store, where the pharmacist can be found dead in a bunch of fungi. After Ellie loots the Pharmacist Key off of him, you can then pick it up.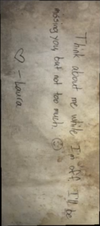 Ad blocker interference detected!
Wikia is a free-to-use site that makes money from advertising. We have a modified experience for viewers using ad blockers

Wikia is not accessible if you've made further modifications. Remove the custom ad blocker rule(s) and the page will load as expected.