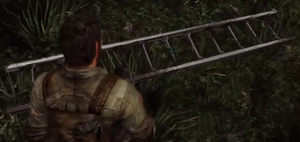 A ladder is used to climb up to higher areas in The Last of Us. If the ladder is higher than the ledge it is placed on, the player can pick it up again and carry it to a different location, similar to a Plank. There are also fixed ladders, ones that the player can't move but can interact with in some way.
Locations
Edit
Here are the locations of all of the ladders:
Ad blocker interference detected!
Wikia is a free-to-use site that makes money from advertising. We have a modified experience for viewers using ad blockers

Wikia is not accessible if you've made further modifications. Remove the custom ad blocker rule(s) and the page will load as expected.