Jak Goggles
Talk

0
378pages on
this wiki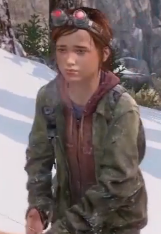 The Jak Goggles are an unlockable skin for Ellie that appears in The Last of Us. The cost amount to unlock this skin is $600. To unlock this skin for purchase, you must beat the game on Hard or Survivor difficulty.
The item is a reference to Naughty Dog's Jak and Daxter franchise.
Jak goggles were apparently redesigned heavily in The Last of Us. It looks nothing like his original in from any of his games. This is most likely due to the fact that Jak goggles needed to look more realistic in a realistic world.
The Last of Us marks the second Naughty Dog game to feature Jak's goggles in them. The first being Uncharted 3: Drake's Deception (Multiplayer as DLC).