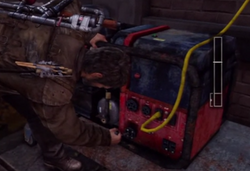 A generator is a power source used to power certain things in The Last of Us. In order to get a generator working, the player needs to pull the generator handle three times by percisely pressing the triangle button at a certain point. Failing to press the button at the right point will cause the meter to empty and the process must be started again. If a player has trouble finding it, the player can follow the yellow wires that lead to the generator.
Locations
Edit
Here are the locations of all five of the generators:
Ad blocker interference detected!
Wikia is a free-to-use site that makes money from advertising. We have a modified experience for viewers using ad blockers

Wikia is not accessible if you've made further modifications. Remove the custom ad blocker rule(s) and the page will load as expected.