Bill
Talk

0
82pages on
this wiki
Bill


Information
Gender
Male
Race
Human
"Once upon a time, I had somebody that I cared about. And in this world, that sort of shit's good for one thing. Gettin' you killed."
―Bill explaining himself, comparing to the world
Bill is a survivor living outside the quarantine zone and retains an uneasy allegiance with Joel and Ellie. He is voiced and mo-capped by W. Earl Brown.[1]
Biography
Edit
Background & Early life
Edit
Little is known about Bill. At some point before the events of The Last of Us, he met Joel. By the time during which the events of the game take place, Bill owes many favours to Joel.
Events of The Last of UsEdit
"You help me go gather it, maybe I could put somethin' together that runs. But after this, I owe you nothin'."
―Bill to Joel.
Much to Bill's dismay, Joel and Ellie arrive to his safehouse, turning off his traps, alerting an overwhelming swarm of The Infected of their presence, and, according to Bill, "damn near break [Bill's] shootin' arm". Bill subdues both Joel and Ellie, but the two manage to break from his grip, thanks to Ellie.
After a brief arguement, Joel asks Bill for a car, supplemented by Ellie reminding Bill about the favors he owes to Joel. Bill says he has no working car, but there are parts of cars located in the other part of the town. Bill agrees to build a car for Joel and Ellie, but tells them that once it would be done, he owes no more favors to Joel, to which Joel agrees.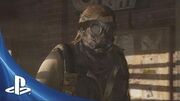 Personality and Traits
Edit
Bill is a skilled mechanic that knows how to fix up cars and assemble things from broken items and spare parts. Bill is an extremely paranoid person, often wearing a gas mask to protect himself from the infection, as the disease could kill him with a single breath. He is very cautious and inevitably strict about strangers, always making sure to check whether they are infected or not. His base is heavily protected with traps and mines. Bill is easy to anger, threatening the teenage Ellie several times for her sharp tongue, but is also willing to help pay off debts and assist certain allies, as shown from his eventual agreement to put together a car for Joel early in the game. Also mentioned in the VGA trailer Bill said he once had someone he cared about but then said that attitude gets you killed.
References
Edit