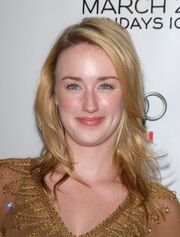 Ashley Suzanne Johnson (born August 9, 1983) is an American actress and voice actress who is best known for voicing Peter Shepherd in the Jumanji TV Series, Gretchen Grundler in Disney's Recess, Terra in Teen Titans and Teen Titans Go! and Gwen Tennyson in the Ben 10 franchise since Alien Force. She is a two-time BAFTA award-winner for her voice-overs.
She provided the English voice and motion capture for Ellie in The Last of Us due to how she was a "strong and independent character". Johnson also remarked how there was just a yellow tape when her and Troy role played the scene where Joel and Ellie have to to flee Pittsburgh. She laughed in memory of how they just stepped over it and the producers had to emphasize that they were dropping over fifty feet, not stepping over a ledge. She and Baker were also placed in a cart to recreate the motions of moving in water, both agreeing it "was pretty scary".
Johnson later claimed over commentary of the game of how she "came home with loads of bruises" after finishing the Winter chapter due to having been kicked and slammed during her character's near-death scenes. Neil Druckmann also passed comment of how he "didn't know what [she] was channeling" when acting out her character's murder of Nolan North's character David. Johnson jokingly claimed she has "a lot of anger built up inside" her.
In regards to having the opportunity to work with North, as he is famous for being "the closest thing video games have to a bona fide actor", Johnson remarked he "was as good as they say" and that she was "so lucky" to work along side him when they were on set. Johnson also said one her favorite scenes was when David and Ellie briefly fight in the cell, Johnson citing she "likes the dark stuff".
Johnson also became famous for hitting many people on set during the action scenes, namely Reuben Langdon (who played the character of James) and W. Earl Brown (who played the character of Bill).
External links
Edit