Ashley Johnson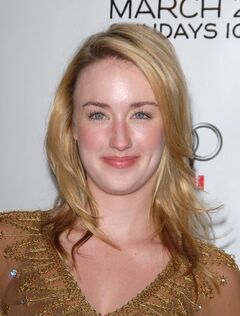 Ashley Johnson
Ashley Suzanne Johnson (born August 9, 1983) is an American actress and voice actress who is best known for voicing Peter Shepherd in the Jumanji TV Series, Gretchen Grundler in Disney's Recess, Terra in Teen Titans and Teen Titans Go! and Gwen Tennyson in the Ben 10 franchise since Alien Force. She is a two-time BAFTA award-winner for her voice-overs.
Johnson provided the English voice and motion capture for Ellie in The Last of Us due to how she was a "strong and independent character". For the release of the Remastered edition, she, Troy Baker and Neil Druckmann provided an insight in to their thought process and discussions when shooting the cinematic scenes for the game.
Johnson remarked how there was just a yellow tape when her and Troy role played the scene where Joel and Ellie have to flee Pittsburgh. She laughed in memory of how they just stepped over it and the producers had to emphasize that they were dropping over fifty feet, not stepping over a ledge. She and Baker were also placed in a cart to recreate the motions of moving in water, both agreeing it "was pretty scary".
Johnson later claimed over commentary of the game of how she "came home with loads of bruises" after finishing the Winter chapter due to having been kicked and slammed during her character's near-death scenes. Neil Druckmann also passed comment of how he "didn't know what [she] was channeling" when acting out her character's murder of fellow actor Nolan North's character David. Johnson jokingly claimed she has "a lot of anger built up inside" her.[1]
In regards to having the opportunity to work with North, as he is famous for being "the closest thing video games have to a bona fide actor", Johnson remarked he "was as good as they say" and that she was "so lucky" to work along side him when they were on set. Johnson also said one her favorite scenes was when David and Ellie briefly fight in the cell, Johnson citing she "likes the dark stuff".[2]
Johnson also became famous for hitting many people on set during the action scenes, namely Reuben Langdon (who played the character of James) and W. Earl Brown (who played the character of Bill).[3]
With the reveal of a sequel to The Last of Us, entitled The Last of Us Part II, in December 2016, Johnson is set to reprise her role as a 19-year old Ellie. [4] At the Q&A panel afterwards, she remarked how she was overjoyed to be working on the sequel. She also admitted that she did sing a rendition of "Through the Valley" herself and how she was very nervous in doing so. Druckmann commented that they had to bring in a professional voice coach to ensure Johnson "sounded worse" and to ensure it was "Ellie's voice, not Ashley's". She also reportedly cried upon learning of the initial plot for The Last of Us Part II from Druckmann, citing it was due to how attached she had become to the characters.[5]
References
Edit
External links
Edit
Ad blocker interference detected!
Wikia is a free-to-use site that makes money from advertising. We have a modified experience for viewers using ad blockers

Wikia is not accessible if you've made further modifications. Remove the custom ad blocker rule(s) and the page will load as expected.